About Global Helping Hands
Global Helping Hands is a non-governmental, not for profit organisation established in 2006 to promote and put into action initiatives for providing the disadvantaged and mainly rural population with awareness, support and help in improving their physical and social well being. Our motto-Hope, Help and Health- encapsulates this mission objective. Currently we are active in the vast populated coastal districts of Andhra Pradesh.

Hope- GHH gives hope to economically downtrodden sections of the population with programmes that create awareness and feeling of inclusion. These are achieved by reaching out, involvement in community issues and using awareness as a tool to create empowered individuals.
Help- GHH has put into operation target oriented programmes that help the rural downtrodden improve their standards of living. This involves helping them with micro-economic schemes that would help them become self sufficient and self reliant socially and economically.
Health- GHH has medical outreach programmes that reach out to by organising awareness camps, health camps and also providing free treatment and medicines.


INTERNATIONAL OFFICE:
International Office:
Global Helping Hands Inc was established in the year 2006 with its international office at Dallas, Texas, USA.
Global Helping Hands Inc was founded by Dr. Jay Prakash Narayana, M.D., a doctor practicing in USA, for the last 23 years. Having been born in India, and well-versed with the living conditions of the rural poor and down-trodden, he had set up Global Helping Hands Inc. He was assisted in this initiative by local eminent medical and educational professionals, who shared the same commitment to assist the rural people of Andhra Pradesh, irrespective of caste, creed and race. The first programmes were modelled as monthly medical outreach every month for chronic diseases - hypertension, anaemia, diabetes and then for detection of HIV and AIDS.
INDIA OFFICE:
The India office was established in January 2007, with its Administrative office at Brodiepet, Guntur, and Andhra Pradesh. Global Helping Hands Inc was registered under Societies Act, 1860, at the district registrar office of Guntur on 19-01-2007 (Register no 25/2007). The India office is managed by Udaya Kumar who as International Coordinator is assisted by a group of experienced medical and programme staff.
The GHH board members have a clear vision of the goals in Andhra Pradesh and also in other parts of India. The main emphasis of Global Helping Hands Inc is to transform people's life economically, with stress on self-reliance, knowledge, health, organization and self-sufficiency. The main focus is also to reach out to people living in rural areas disadvantaged by minimal resources, and assist them with health care and advance their well being. Our aim, is to give the people hope of a future that I stable and live with self- respect.
Global Helping Hands Inc strives to make people believe in themselves, and for the betterment of their families.
The thought is to create a collective consciousness of theoretical and living experiences accumulated, lived and transformed through, the actual carrying out of the tasks of serving our suffering fellow-beings.

We want to devise new systems, innovative approaches, deepening values of service to humanity and create a vibrant and healthy community.
Let us all join hands and work with the community in the battle against CANCER in India.
We must become the change we want to see- Mahatma Gandhi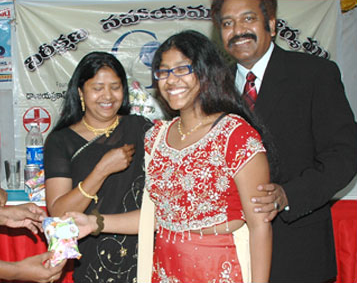 Attitude is little thing
that makes a big

difference

Winston Churchill